What is Domestic Violence?
A pattern of abusive and threatening actions used to dominate power and control over an intimate dating partner or spouse. An abusive partner uses many types of abuse. Domestic violence includes the use of physical,sexual violence, threats and intimidation, stalking, emotional,psychological, financial control and spiritual abuse. The power and control wheel is used to help identify a pattern of abuse.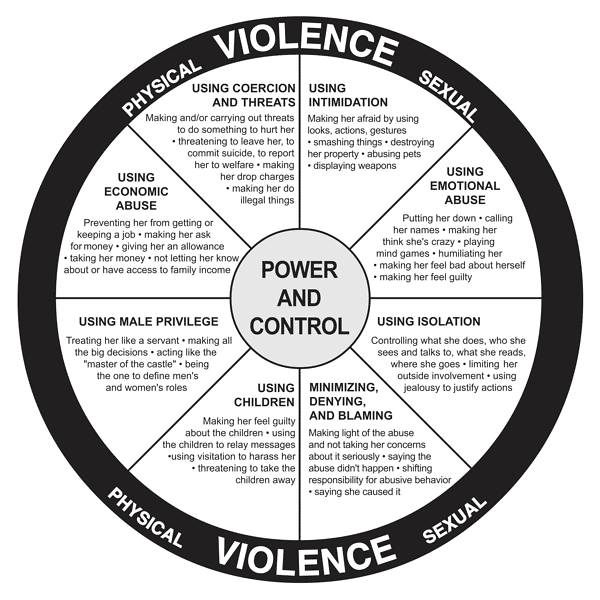 Types of abuse:
* Physical- Abuse or the threat of abuse of the victim, children, or pets
* Economic- Rigidly controlling finances/withholding money
* Mental-Sabotaging a partner's job by making them miss work, calling them constantly at work, etc.
* Verbal- Use insults that humiliate a partner
* Emotional- Telling partner who he/she can or can't hang out with 
* Sexual- Any unwanted sexual activity without consent, including rape, incest, sexual harassment, and molestation. Consent is the presence of a clear yes (not the absence of a no)
The harsh reality is that every year, 1,510,455 women and 834,732 men are victims of physical violence by an intimate partner. On average more than three women a day are murdered by their husbands or boyfriends in the United States.
• Nearly one in four women in the United States reports experiencing violence by a current or former spouse or boyfriend at some point in his/her life.
Violence and Teens
• 1 in 4 adolescents reports verbal, physical, emotional, or sexual abuse each year.
Violence and Children
• 15.5 million children in the United States live in families in which partner violence occurred at least once in the past year, and seven million children live in families in which severe partner violence occurred.
• In a single day in 2008, 16,458 children were living in a domestic violence shelter or transitional housing facility. Another 6,430 children sought services at a non-residential progra
• Technology has become a quick and easy way for stalkers to monitor and harass their victims. More than one in four stalking victims reports that some form of cyberstalking was used against them, such as email (83 percent of all cyberstalking victims) or instant messaging (35 percent). Electronic monitoring of some kind is used to stalk one in 13 victims.
Ask your self this, Are you in an Abusive Relationship?
If your partner has done even one of these things to you, please seek guidance immediately. Understanding the impact of these incidents is crucial in protecting yourself and your children.
Emotional Abuse
• Ridiculed or insulted your religion, race, heritage, class or women as a group
• Withheld approval, appreciation or affection as punishment
• Continually criticized you, called you names, shouted at you, or demeaned you by telling you you are unable to manage without male help
• Insulted or drove away your family and friends
• Refused to socialize with you
• Threatened to hurt your family, or threatened to kidnap the children
• Controlled all the money, kept you from working, or prevented you from making decisions
• Manipulated you with lies/contradictions or controlled you with his jealousy/possessiveness
• Intercepted your mail or telephone calls, or took away car keys or money
• Punished/deprived the children when he was angry at you, or abused pets to hurt you
• Regularly threatened to leave or told you to leave
• Blamed you for the violence
Physical Abuse
• Pushed, shoved, slapped, bit, kicked, choked, punched or tripped you
• Held you to keep you from leaving or tied you down
• Thrown objects at you
• Locked you out of the house
• Abandoned you in dangerous places
• Refused you help when you were sick, injured or pregnant
• Subjected you to reckless driving
• Threatened or hurt you with a weapon
• Twisted or pulled your arm
• Told anti-women jokes, made demeaning remarks about women, or treated women as sex objects
• Become jealously angry, assuming you would have sex with any available man
• Criticized you sexually
Are you in a cycle of domestic violence ? 
Help is available to stop the cycle.  If you are in a emergency situation or are in need of a shelter reach out  to the National Domestic Violence Hotline at 1-800-799-7233 (SAFE)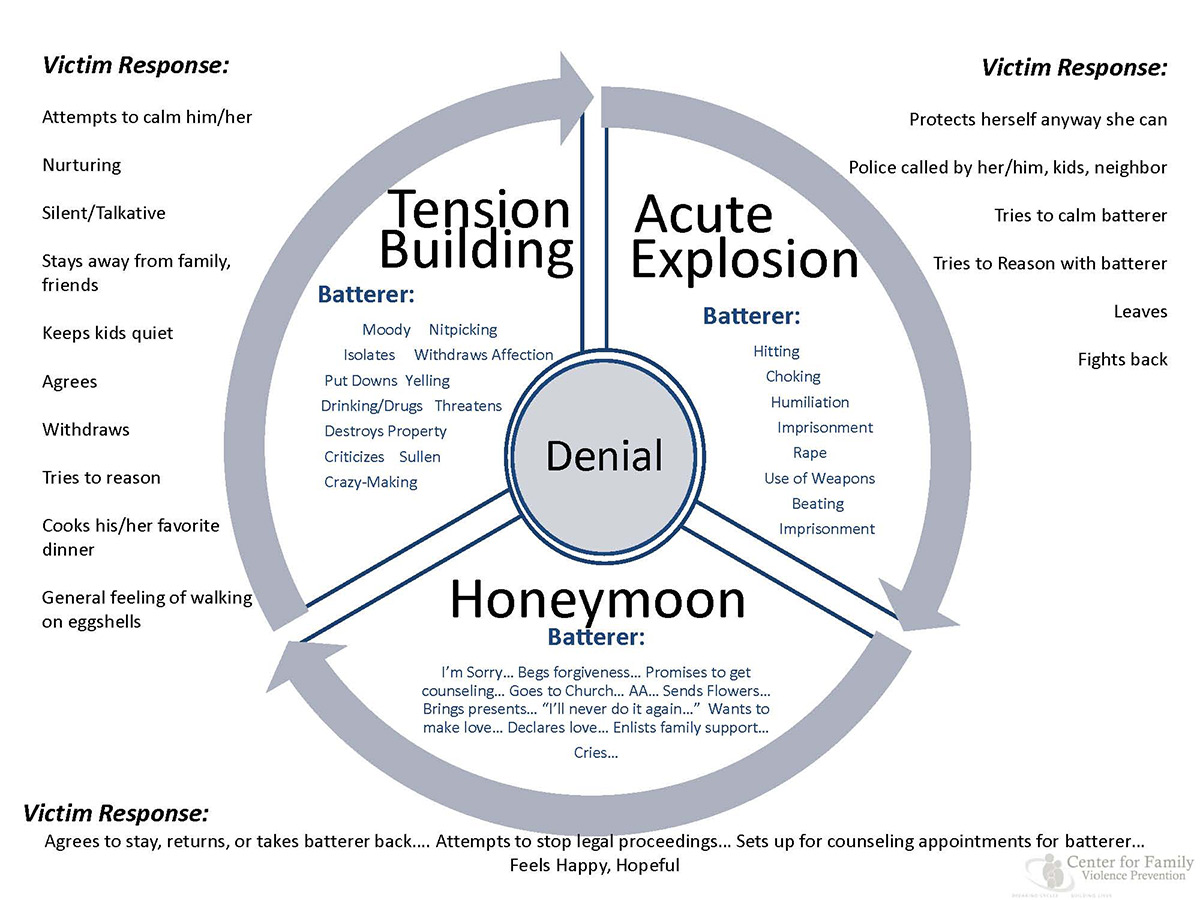 Advocacy and education is available in Helping Hands Resource. Please don't suffer in silence. Awareness can save a life.
Categories: Domestic Violence Awareness